Royal H Custom All Roads
I have more than twelve years of experience working with Seven Cycles, who just summarized why they are, in my opinion, the best custom builder in the world namely, because they listen, then proceed as a team, working side by side with the rider and the bike shop to ensure the very best bike gets fabricated.  They repeat this methodology with each and every design, which I find refreshing and respectful of the riders they build for.
For the past ten years or so, Bryan Hollingsworth has been fabricating these bikes as a part of the production team at Seven Cycles.  His specialty are the carbon and titanium frames like the 622 SLX, the crème de la crème.  Seven's tolerances are the tightest in the industry, and their production process is nothing short of art in motion.  When Bryan clocks out of Seven, he takes all of that experience with him on his ride to Charlestown to clock in at Royal H, his own custom bike brand.  This isn't a breach of contract either, Seven supports employees who want to branch out and put their own brand name on a down tube, Bryan is one of many to do so.
Bryan founded Royal H in 2009 to make bikes that increase their owners enjoyment.  Fit and finish have a lot to do with that, but so does the medium in which he works, steel, and the order process.  Royal H's are classy bikes, the type you might see in a photoshoot at NAHBS, or in a randonnée with rock walls or churches in the backdrop.
Some of the classiness can be explained by the exquisite lugs, fillet brazed joints, and the timeless paint jobs, but I believe most of it is a result of Bryan's collaboration with the cyclist.  Bryan has a most welcoming demeanor which allows him to have an open and honest discussion about what you want out of your bike, what you want it to look like, and what you want it to ride like.  Royal H's come in all shapes and sizes, and all disciplines too, in fact one of his track bikes was raced in last year's Red Hook Crit.  When I contacted him about the shop demo, we brainstormed for quite a bit before deciding on an all roads style gravel bike.
The order process was fun, and an ideal experience for me to see how Bryan operated as the guy behind Royal H. 
I've known him for more than a decade, but never worked with him on a build.  I was excited to see how he operated while out on his own.  I had a few requirements, but also wanted to lean on Bryan to design a bike that highlighted Royal H.  The result was a bike that embraced the classic styling of a lugged and fillet brazing, but was designed to work with modern components and "standards." 
I knew I wanted to use thru axles front and rear, 140mm hydraulic disc brakes, and have tire clearance up to 40mm.  I also wanted fender and rack mounts just in case, and I didn't love the look of the i-beam, polydrop style drop outs even though the low mount brake makes a ton of sense.  For my own reassurance, we discussed why I thought I wanted those things, and Bryan liked my logic, and offered ways to achieve such a build without sacrificing fit, ride quality, or aesthetics.
That was all I knew I wanted to see on the bike and Bryan walked me through the rest, focussing first on the fit, then the geometry and ride quality, which is to say the way the bike would both feel and handle on the road and trail.  The aesthetic was the final discussion which involved the lugs, tube profile, head tube shape, and top tube slope.  His recommendations made sense to me, things like double oversized tubes, to provide a stout base, and to look good with the massive tapered head tube.  He'd feature both lugs and fillet brazing on the frame, and with some research, chose some beautiful rear drop outs made to handle the 142 x 12 thru axle.  The entire process was fun and informative, kid in a candy store type stuff.  I am certain I was needier than most, but Bryan just kept on chatting and answering questions as they came up, as if my bike was the most important bike in his world too.  I was impressed with his order process.
When the design was confirmed, it took Bryan a little less than eight weeks, to have it ready to send to Jordan Low for a paint job.  Jordan, another one time Seven colleague of mine, and an award winning painter, is now the lead designer at Hot Tubes.  Jordan and I are friends, and like Bryan, it was a chance for me to work with Jordan on a professional level, and again I was pumped considering that his paint jobs are top notch.  Coming up with the paint job was fun and easy, for me, though I peppered him with questions, ideas, and endless emails.  How did he handle it?  He catered the entire experience to how I operated.  I'd share some ideas, he'd deliver templates.  I'd make changes, he'd send new templates.  I had always had eyes for a Seven he painted years prior, and after finding a photo of it, Jordan came back with three templates for me to inspect and revise if needed.  I made a minor change, then another, and another, and then it was exactly what I wanted.
The results, in my opinion, are stunning.
Photos courtesy of John Martin: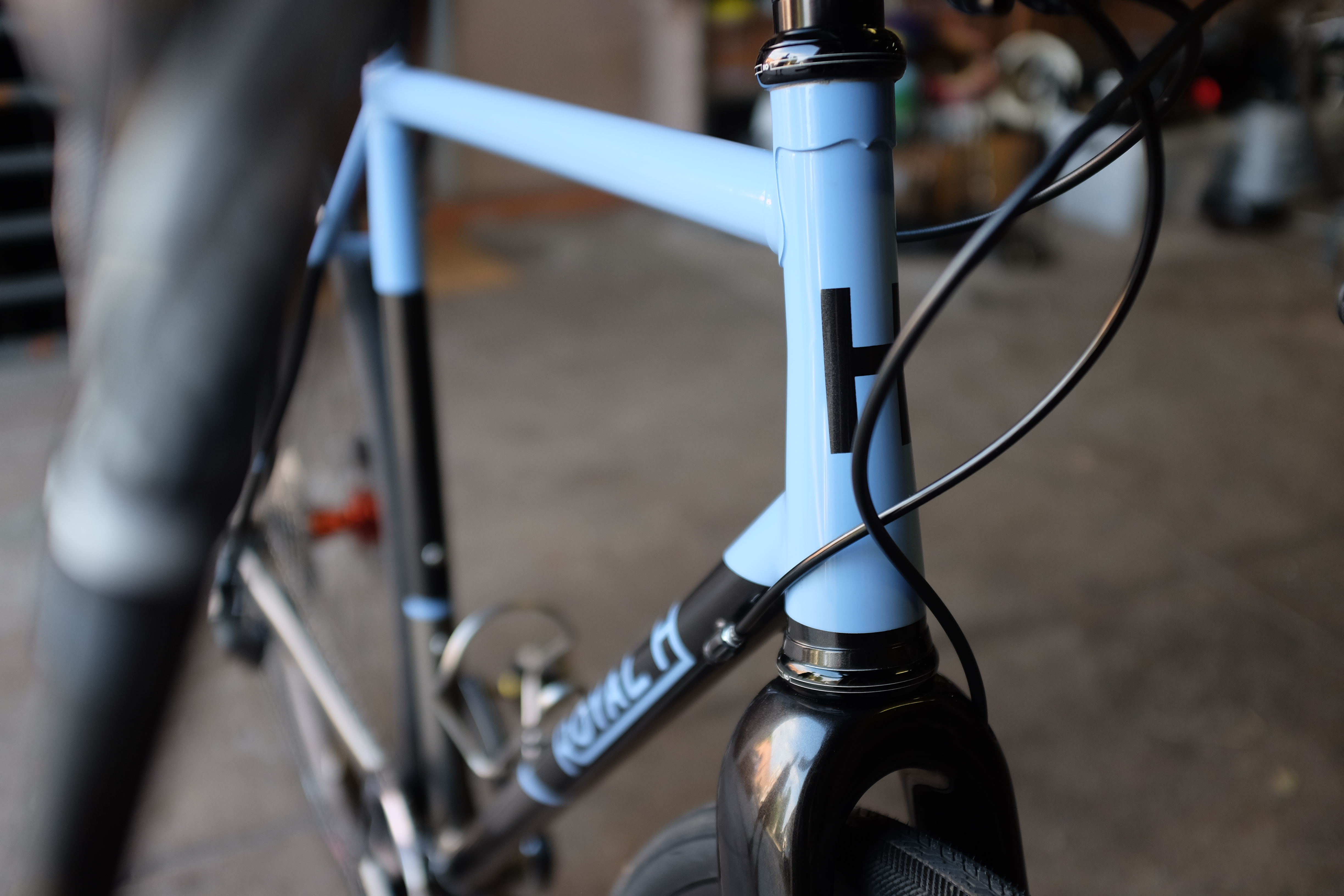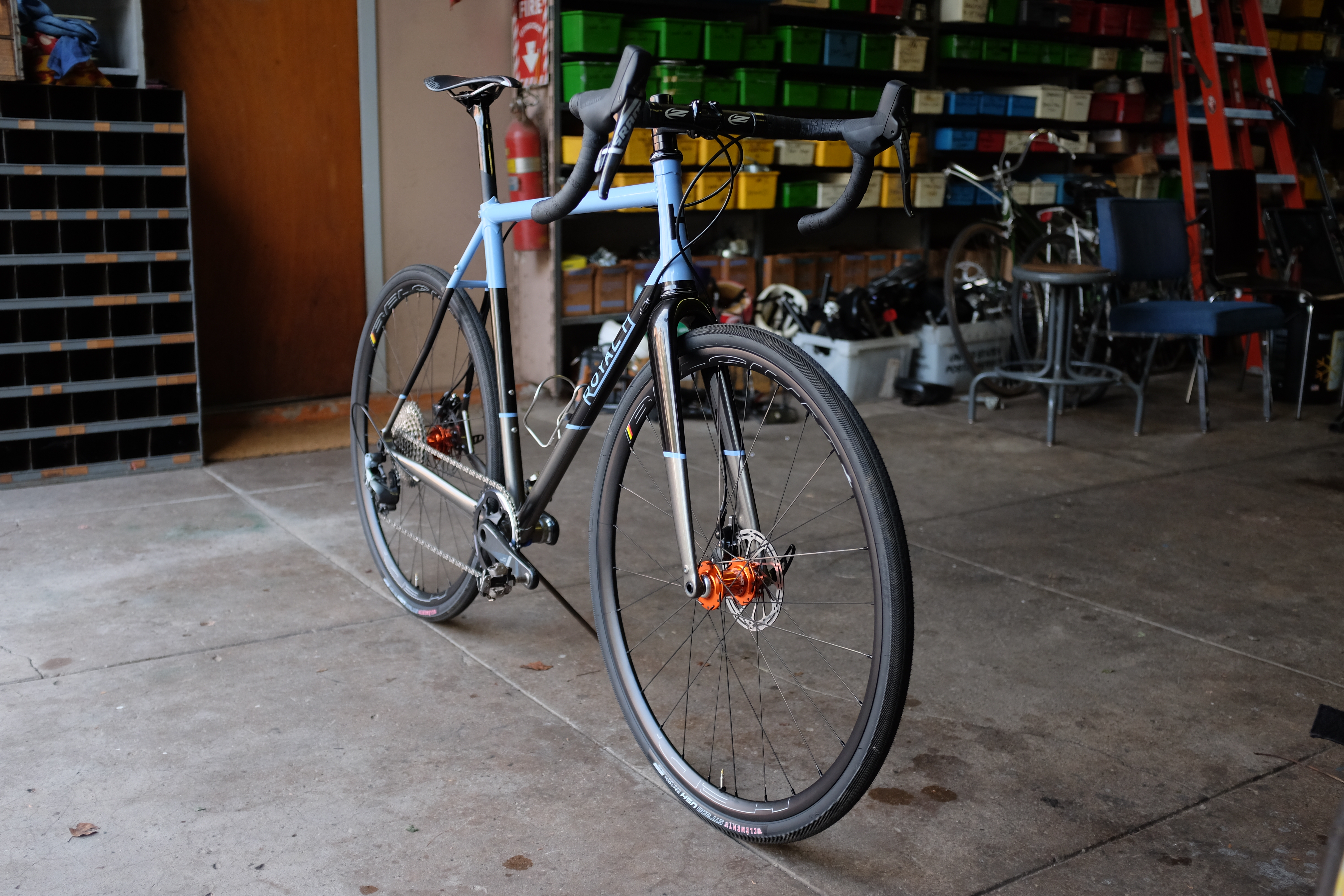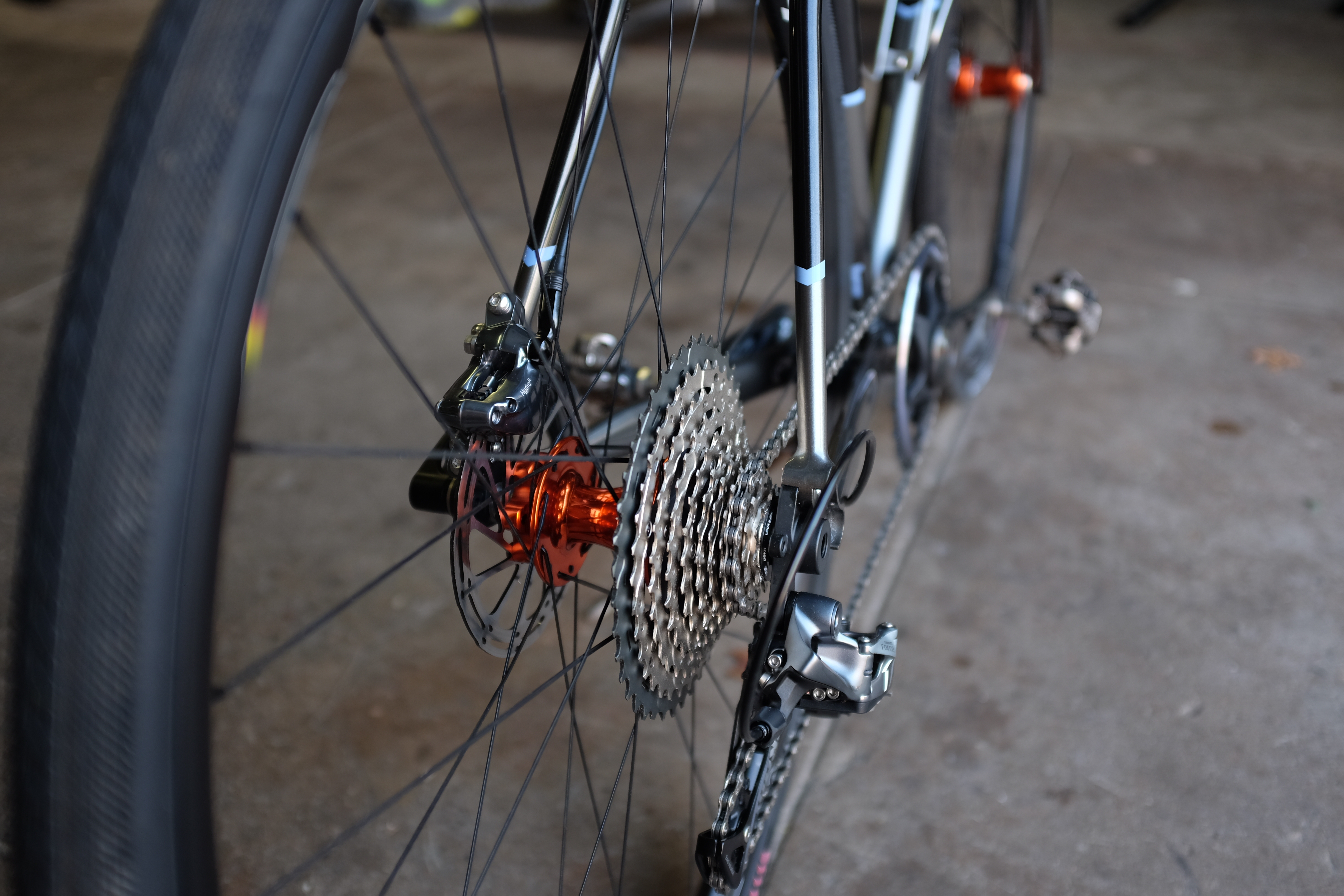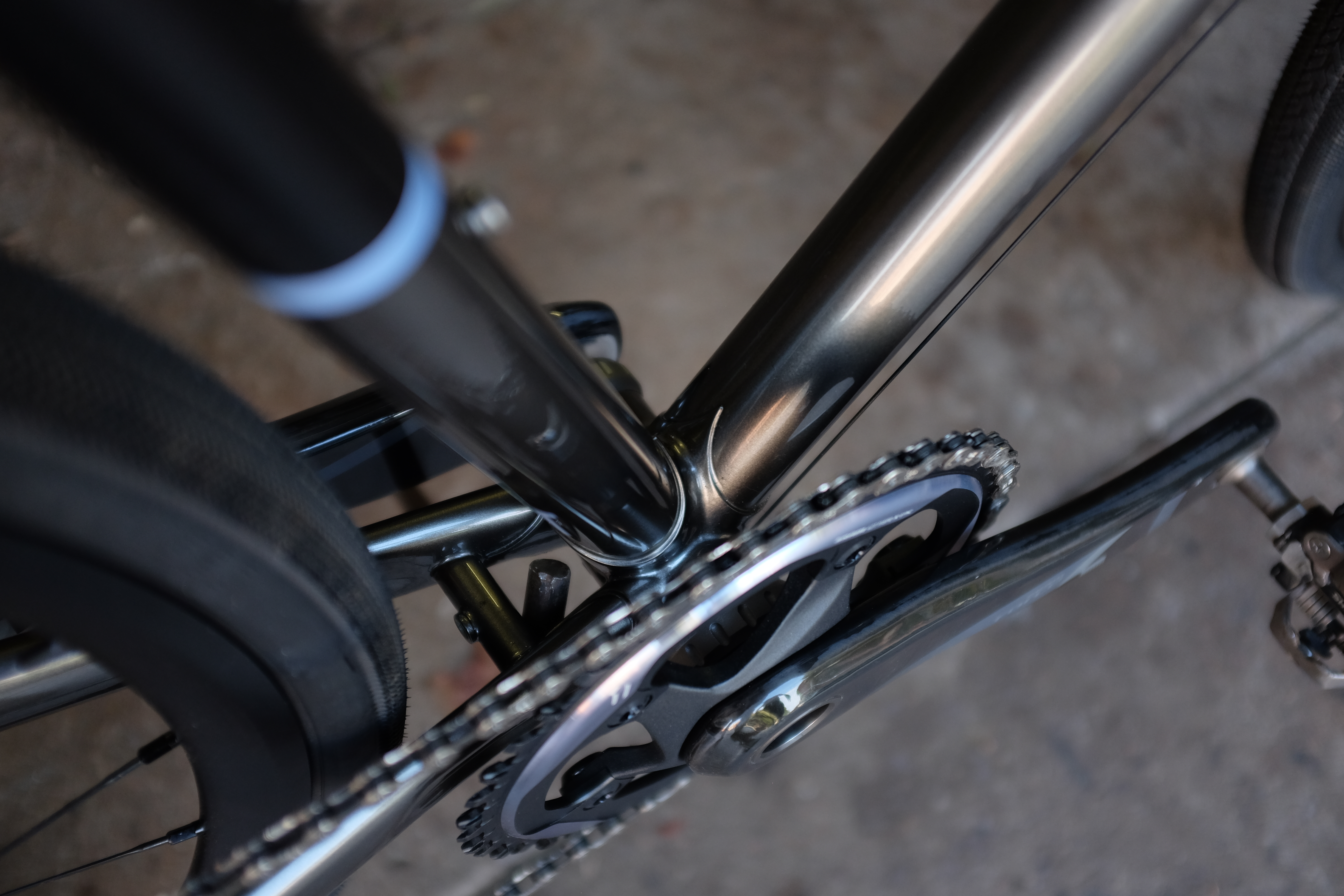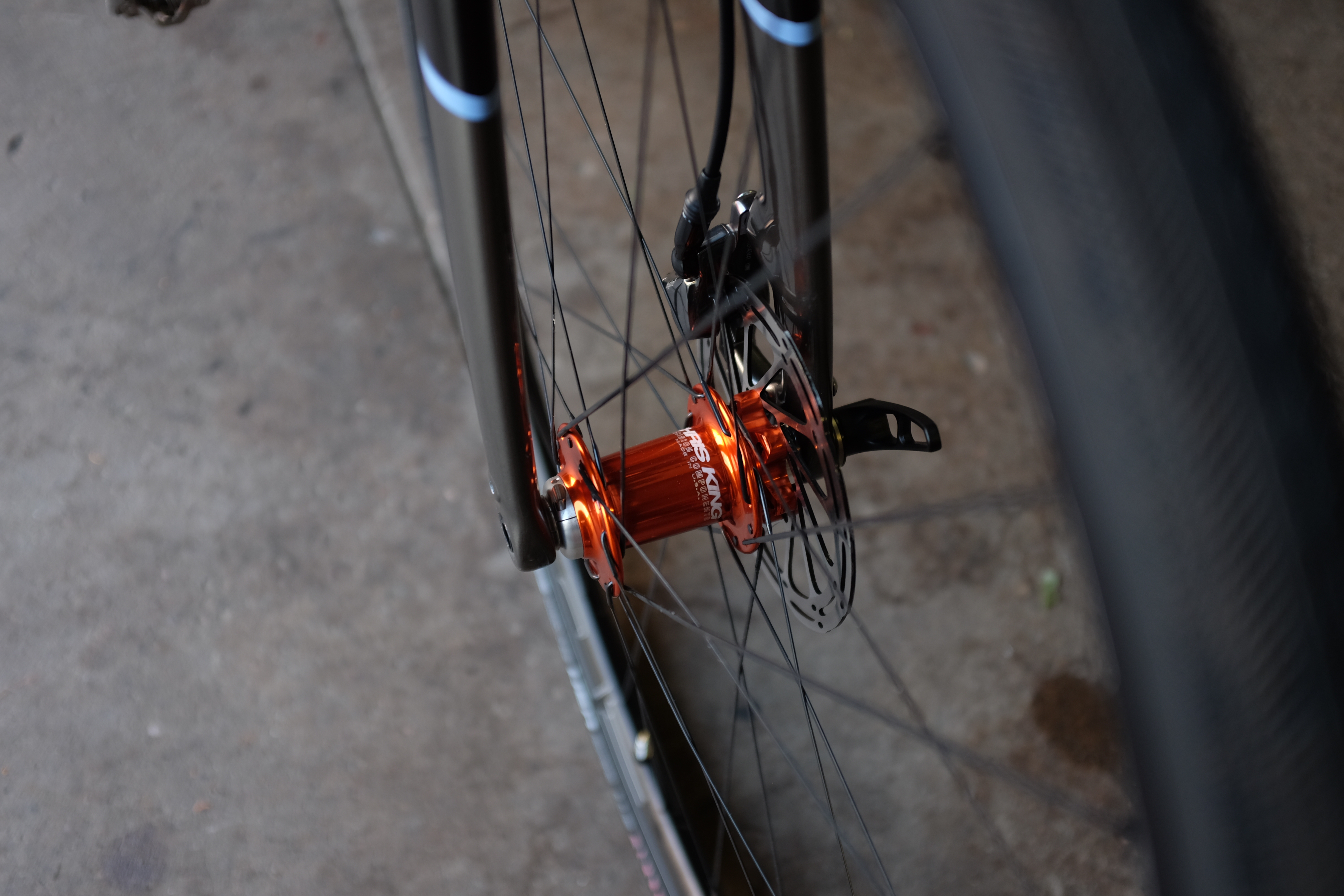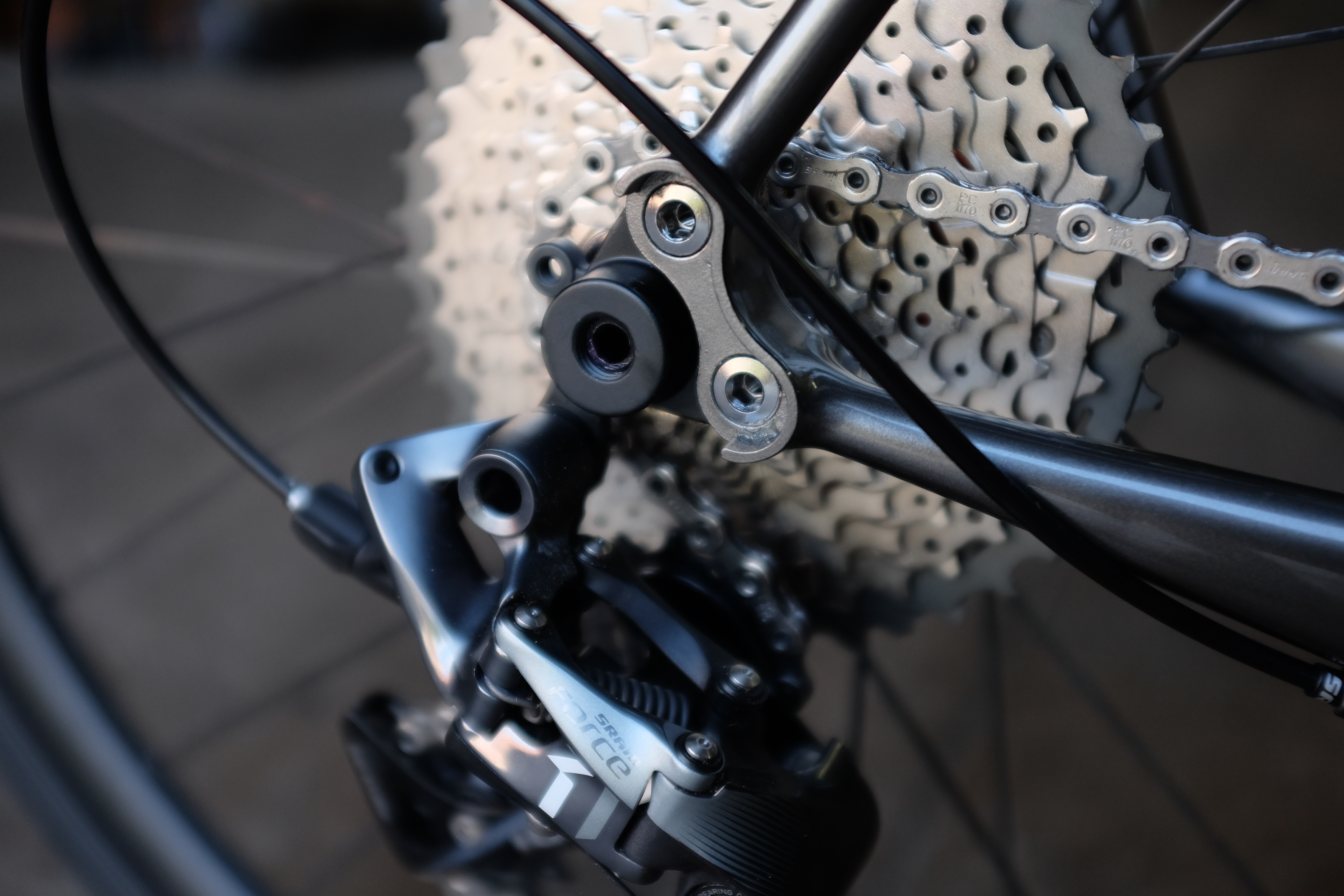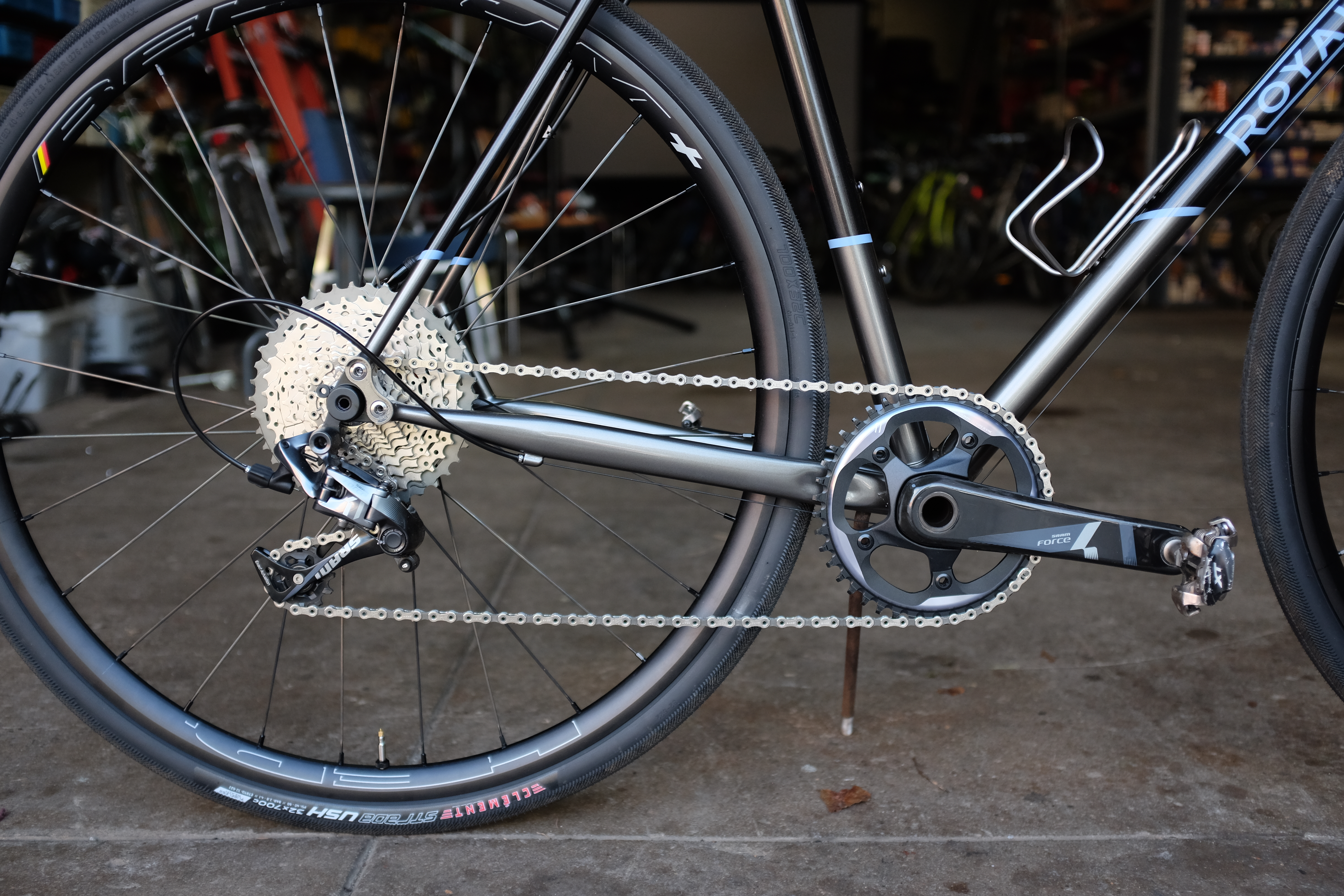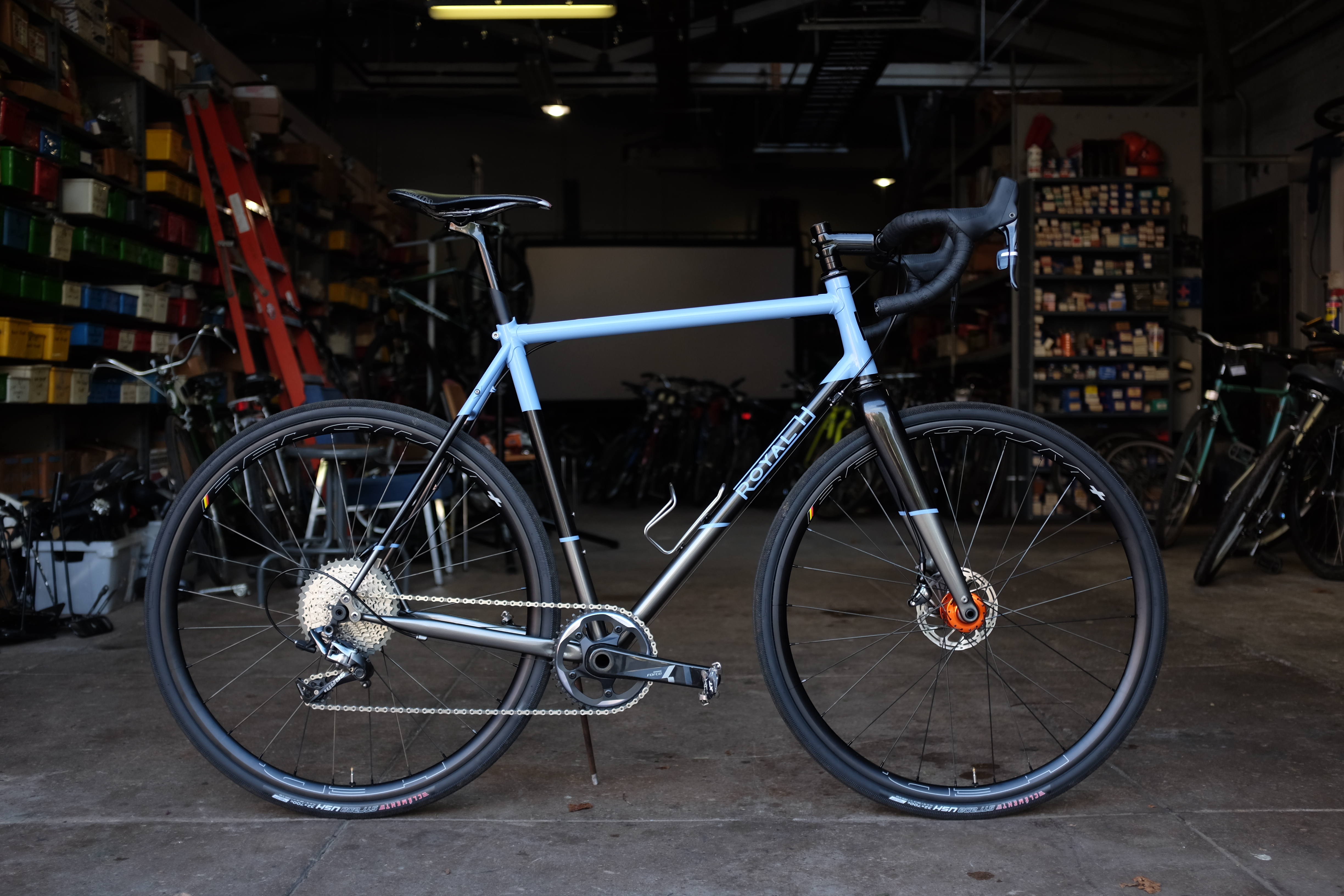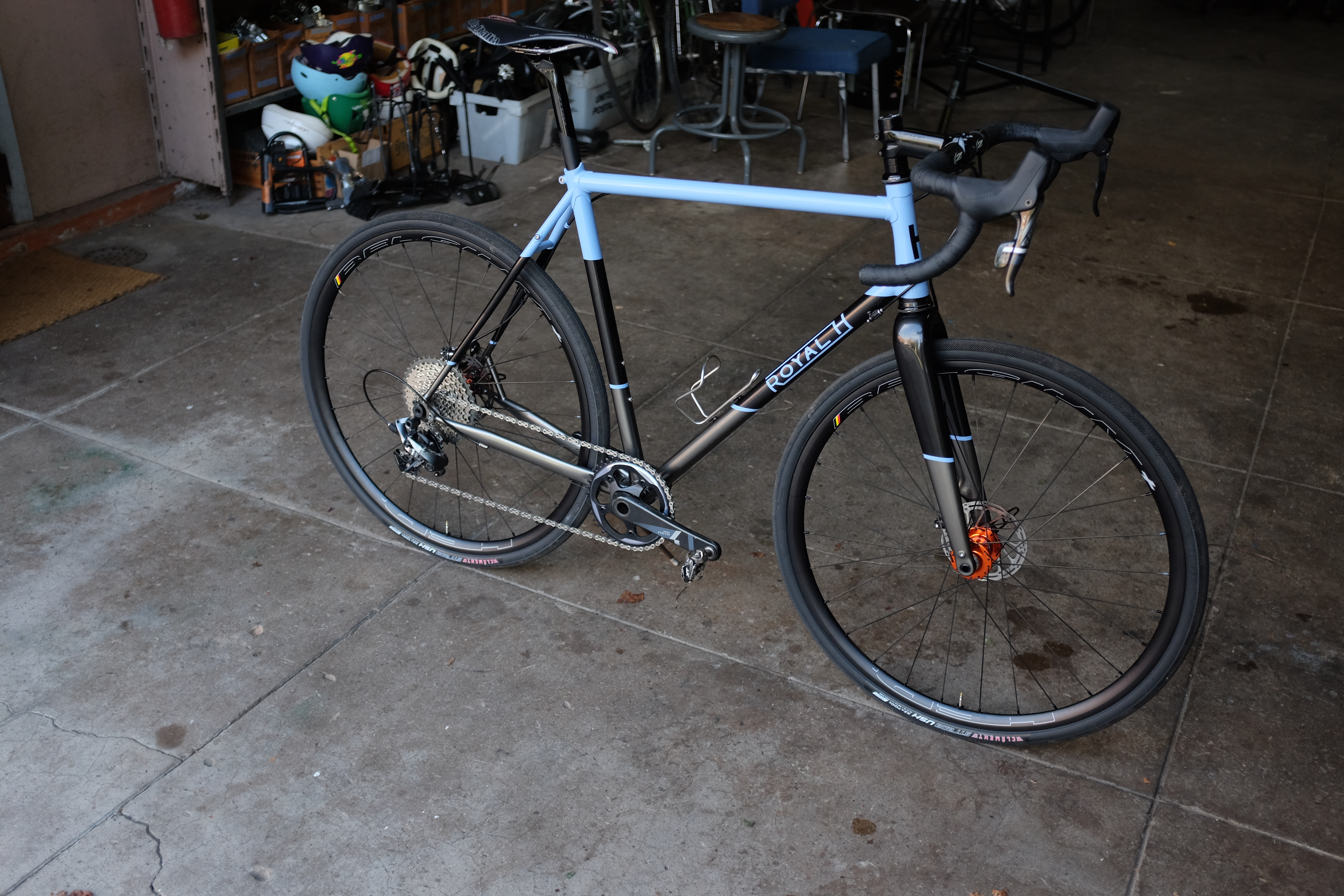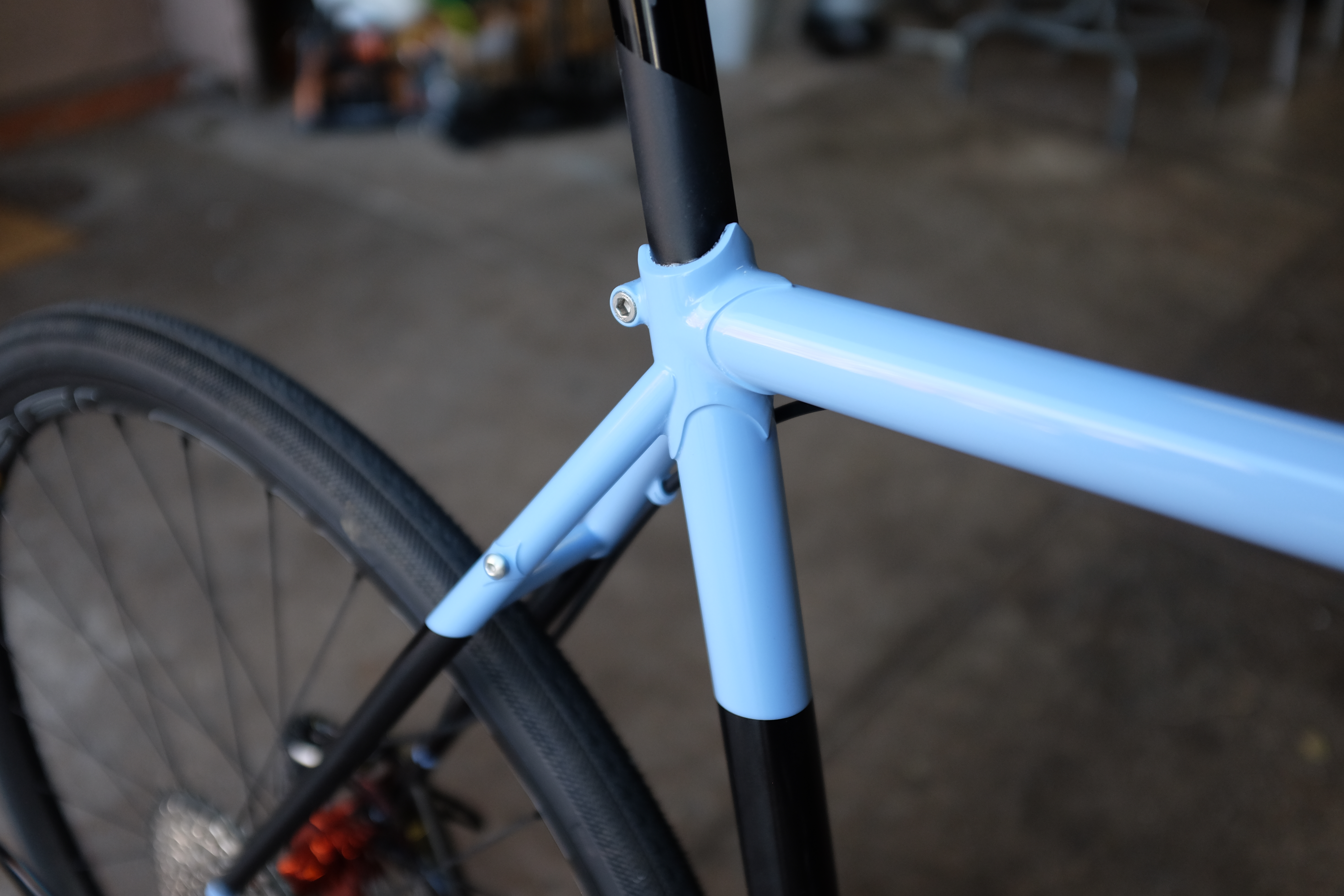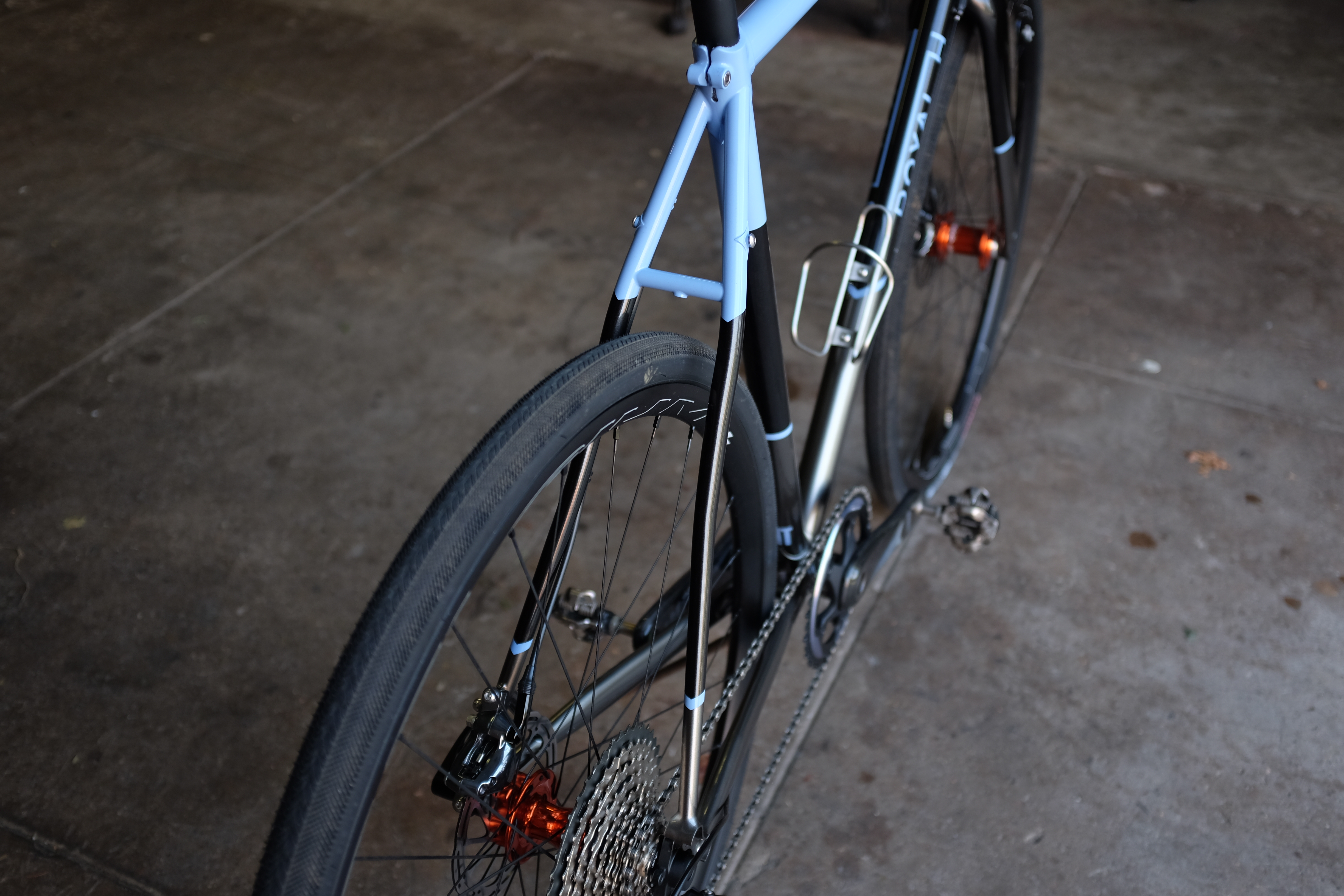 A full ride report and review are in the works, but in the mean time, this bike is now at the shop ready to demo.