NAHBS – 2018
I overheard someone refer to the annual North American Handmade Bike Show as the "World Series of Bike Shows," and I thought that sounded pretty appropriate.  My first trip to NAHBS was in 2010 when I worked the Seven Cycles booth in Richmond, Virginia.  That show opened my eyes to a whole new world of bikes, and the builders that fabricate them.  Some bikes featured exquisite lug work, others buttery smooth brazing, and a select few precisely TIG welded bikes.  Most had paint jobs that would be as welcome on the wall of a museum as they would on a Sunday group ride.  Fork blades curved for miles.  Bright silver hand built wheels shined too brightly for photos.  Blue ribbons hung from the few bikes that were awarded for particularly outstanding craftsmanship.  Randonee and touring bikes dominated the booths, but traditional road bikes, track bikes and a fair share of oddities could be found as well.  Steel was the most prominent building material but titanium, carbon, and aluminum were also featured.  And wood.  And bamboo.  And combinations of all of them as well.  Fenders, racks, bars, stems, and seat posts were other avenues for builders to showcase their ingenuity.  The closer you inspected each bike, the more details could be found.
Instead of sales reps, booths were staffed with the sole proprietor of the company, who, more often than not, was soft spoken, warm, and overwhelmed by the support and interest in their handiwork.  Fending off questions ranging from metallurgy to philosophy, voices began to peter out by the time the three day show concluded.  What a blast that show was.
Fast forward eight short years and, needless to say, I was over the hills with excitement to find out that Hartford would play host to the 2018 rendition of NAHBS this past weekend.  So cool.  Me and a handful of New Haveners waltzed in to the packed Connecticut Convention Center around noon last Saturday to ensure at least six hours viewing time.
The closest booth to the main entrance was Squid bikes out of Sacramento, California.  This is an opportune time to mention that frame builders often have excellent social media feeds, many of whom I follow.  Squid is one such builder, their rattle can spray painted "schemes" are unique at a minimum.  One booth in, and my social media heroes were already coming to life, this would be a theme throughout the day.  The next several booths were brands I had never heard of, and a few were making genuine oddities, like fat bikes with a rear wheel and a front ski, or ride-able sculptures like this carbon and wood creation.  
A few booths later and we started getting down to brass tacks.  The big tickets.  The bells of the ball.  The reason I came to the show.  J.P. Weigle, Royal H, Chapman, Bishop, Horse, Sklar, Mosaic, No. 22, the list went on and on.  A World Series it was.  Intricate lugs, fillets as smooth as a wax.  Beautiful TIG puddles.  Paint jobs that made it difficult to focus on anything but the paint.  Tolerances to the millimeter.  I was in hog heaven.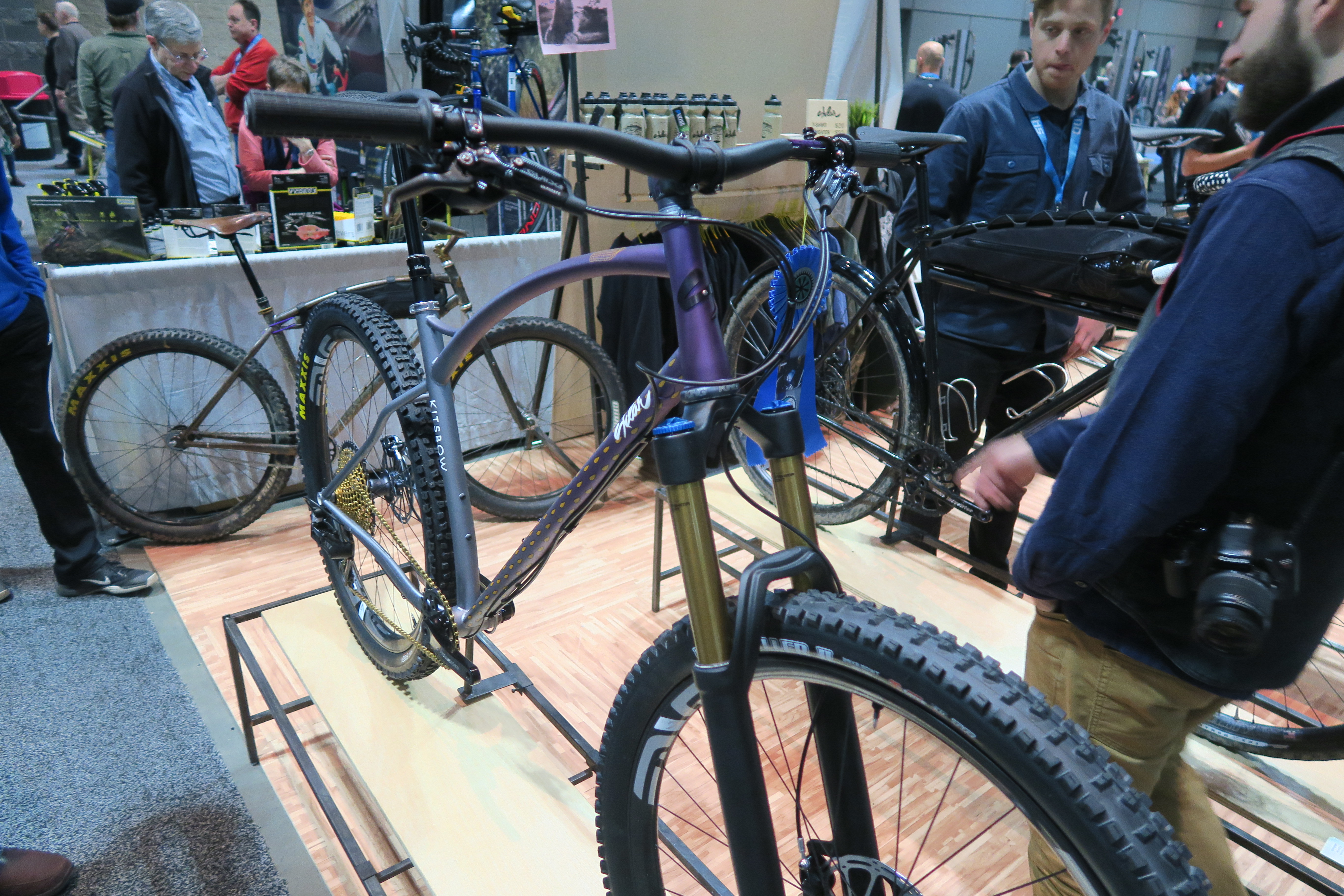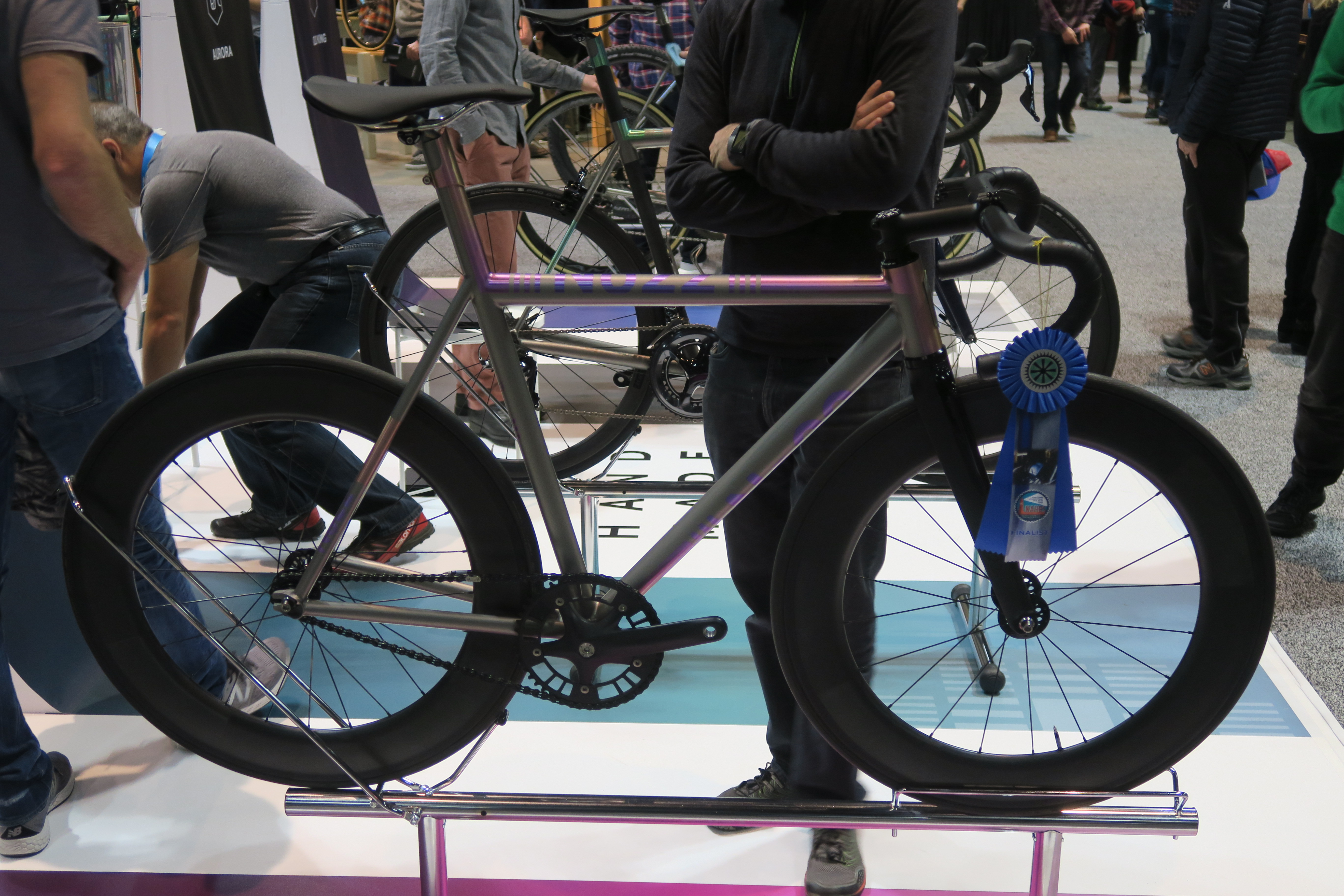 One of the many things I love about custom bikes is how specific they can be to the individual rider.  Track bikes that will never see the street can be designed to work with specific wheel/tire combinations in order to ensure the stiffest most aero set up.  Bishop had just such an example, I couldn't fit a fingernail between the rear tire and seat stay bridge.  Practical for every day applications?  Nope, but practical for the rider to use at his or her favorite velodrome?  Most definitely.  Ultra Romance's Sklar was similar in that it was designed for a specific rider, but on far, far from a velodrome.  His bike dripped with personalization.  Just look at it!  Love it. 
Many of the frame builders at NAHBS can likely build something similar to the bikes seen throughout the show, but the style in which they do it is what separates them from making a sound frame to fabricating a genuine show stopper.  To me, the show stoppers were more than just an exquisite paint job, more than bells and whistles, and certainly more than component spec.  I stopped to stare at a few builders in particular, lap after lap, and each time was impressed with how well thought out the finished products were.  Royal H, Chapman, Bishop, and Horse left the most lasting impressions with me, but, pardon my bias, I felt Royal H was a cut above.  From fit to finish the Royal H booth highlighted Bryan's talent, breadth of options, and devotion to his craft.  He had three bikes and a frame on display.  A traditional road bike (perfectly captured by the one and only John Watson – also in attendance) in a simple but attractive Saab green.  The story went something like this, the rider wanted it painted in 1978 Saab green, I forget the model name, which was the car he learned to drive stick.  It seemed fitting to him to use that color for this bike, his first with electronic shifting.  This bike stood out to me in particular because it did just a good job of hiding the fact that it was a Di2 bike, the wires were integrated so smoothly, it looked too classic to be modern.
The next bike was a violet randonee bike, that in similar fashion to the green bike, incorporated a first-I-have-ever-seen Velogical rim dynamo, which looks old school, but is very much new school, and very much cool.  Rolling on the rim like light generators of yesteryear, the new style is more efficient and won't hurt your rims, even if they are carbon.  Once again the wires were routed internally, including the rear lights which were installed in the back of the Brooks saddle.  Seamless integration.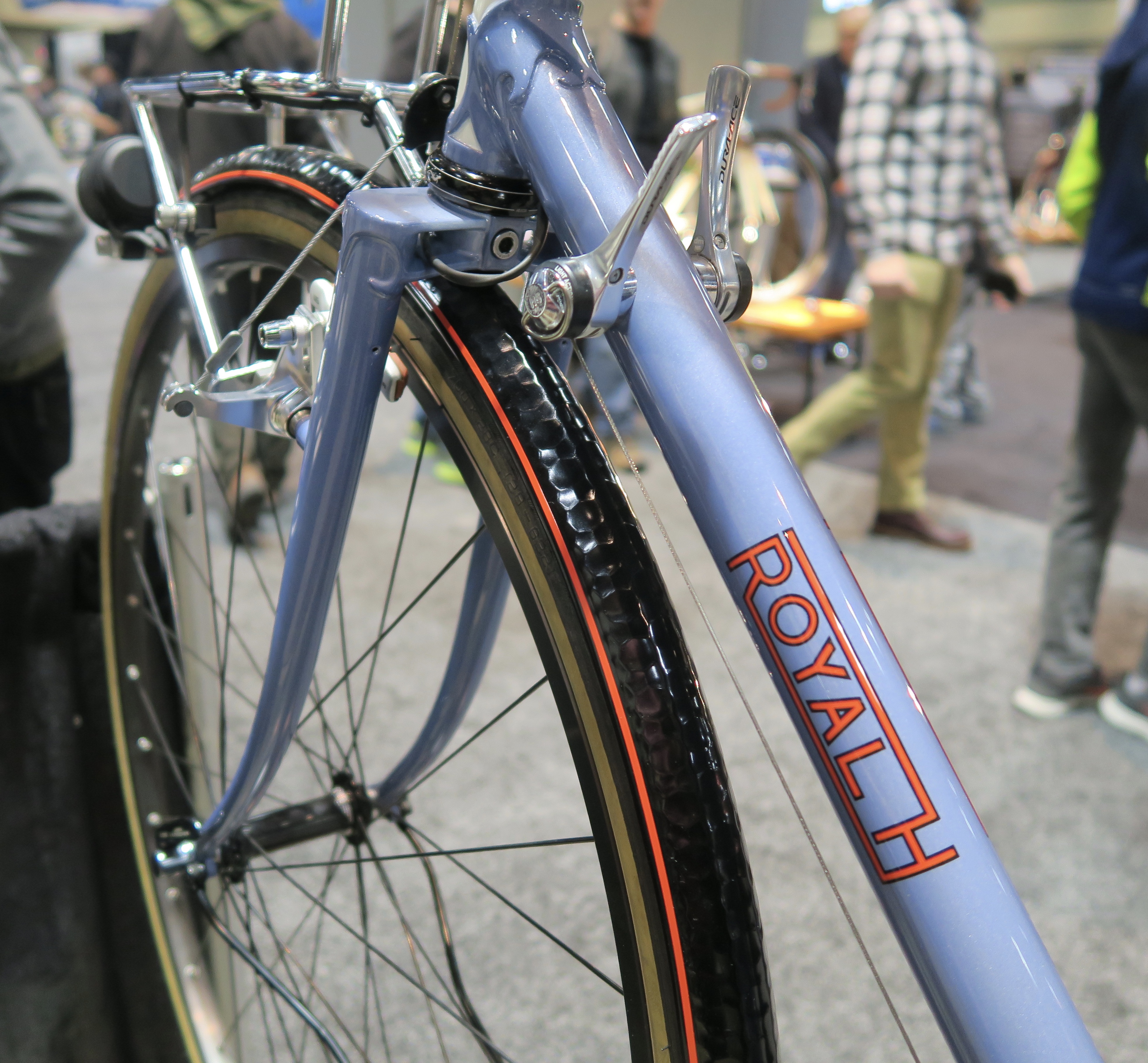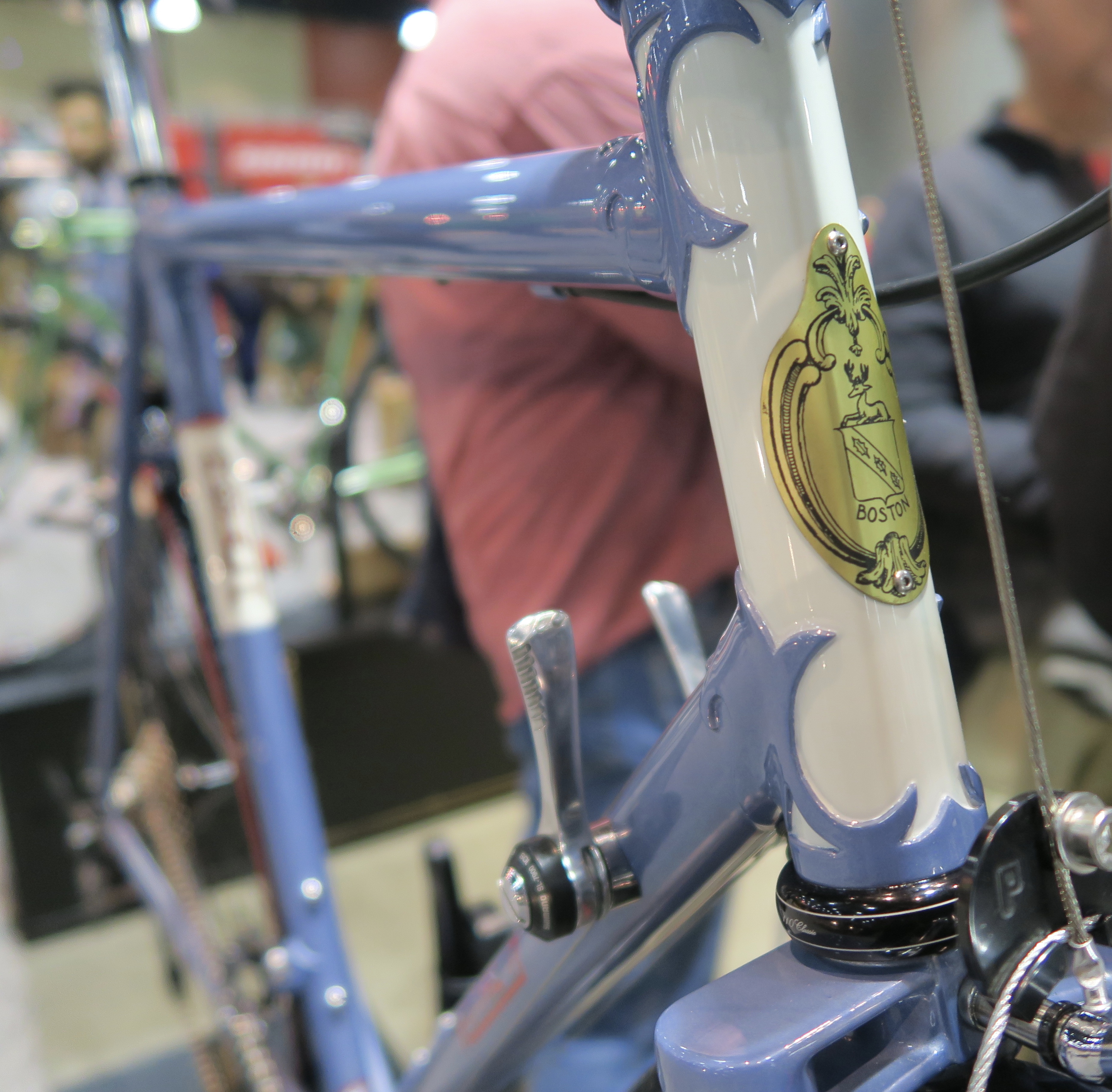 The final bike was an example of Royal H's new line of bikes called, "The Hollingsworth," which he explained are "better than vintage – custom frames with hand cut lugs and classic lines."  He had a masterpiece on display.  Should you want a first hand experience, come by our shop, we are lucky to have an orange Hollingsworth in house.
The last example of a Royal H was anything but traditional.  In collaboration with Seven Cycles,  Royal H is offering twenty-five Prova model bikes featuring "bikini lugs" made of titanium bonded to carbon tubes.  The joint is anything but typical and the finish product looks part Seven, part Royal H, all roadster.  Want.
Speaking of Seven Cycles, I was blown away by the Seven Cycles influence on the show, though they didn't have a booth, they were everywhere.  There were roughly ten employees walking the aisles in civilian clothing, and several behind the booths of their own companies, like:
Jordan Low:  Now the lead painter at Hot Tubes, he was the lead painter at Seven for years.
Ben Falcon:  Ben painted at Seven before painting at Chris King, and before his new gig, lead painter at Horse Cycles.
Craig Gaulzetti:  Craig was a salesman at Seven but left to open his own shop, Summer Cycles, and sell Sevens, sound familiar?  He was their showing off his own bikes, named after the man himself.
Luke Devine:  Luke had one of his own Concinnity bikes on display in the Hot Tubes booth, Luke as a welder at Seven.  He'll be moving to San Diego and making a go at churning out his bikes full time.
Bryan Hollingsworth:  Bryan, the founder of Royal H Bicycles is also a current part time Seven Cycles employee.  Bikes all day long for Bryan.
Joni and Mike Taylor:  The Taylor's worked at Seven together, Mike in design and Joni in sales and service.  They represent Texmaket USA, the clothing company behind most of the bike clothing you wear.
I'm certain I am forgetting some too.  Pretty cool how many people work or have worked for Seven, arguably the largest and best custom builder on the planet.
After six plus hours touring the show and talking to friends and extended family, I was left wishing I could keep the show at my shop for a few weeks to ensure everyone got a chance to experience the fun.  Instead, I've written this blog post and hope it inspires you to check out all of the many images online of the incredible bikes on display.