Mystic
Hoop rolling and maple candy are the first things that come to mind whenever I think of Mystic, Connecticut.  These memories were formed during an elementary school field trip to the seaport many years ago where I learned that the early settlers played simple games while gorging themselves on maple candy by the gentle flicker of blubber burning candle lights.  Or was that Sturbridge?  Needless to say, I left with a most accurate image of the daily lives of colonists in the 1600's.
Clearly it was as good a time as any to head back to Mystic and refresh those memories.  This time I would bring a (slightly) more mature mind, a road bike, and the Pequot Cyclists.  The Pequots, an "activity club with a focus on cycling," are a most delightful group.  Made up of an eclectic group of riders, they share a communal interest in chit-chat and scenic bike rides.  Kristin and I joined in on a Pequot ride a few months ago, and were sold on the group immediately.  They've led us all over south eastern Connecticut, and each week features a new cutesy town complete with old colonial homes, town centers, water, and endless stone walls which are a favorite of mine.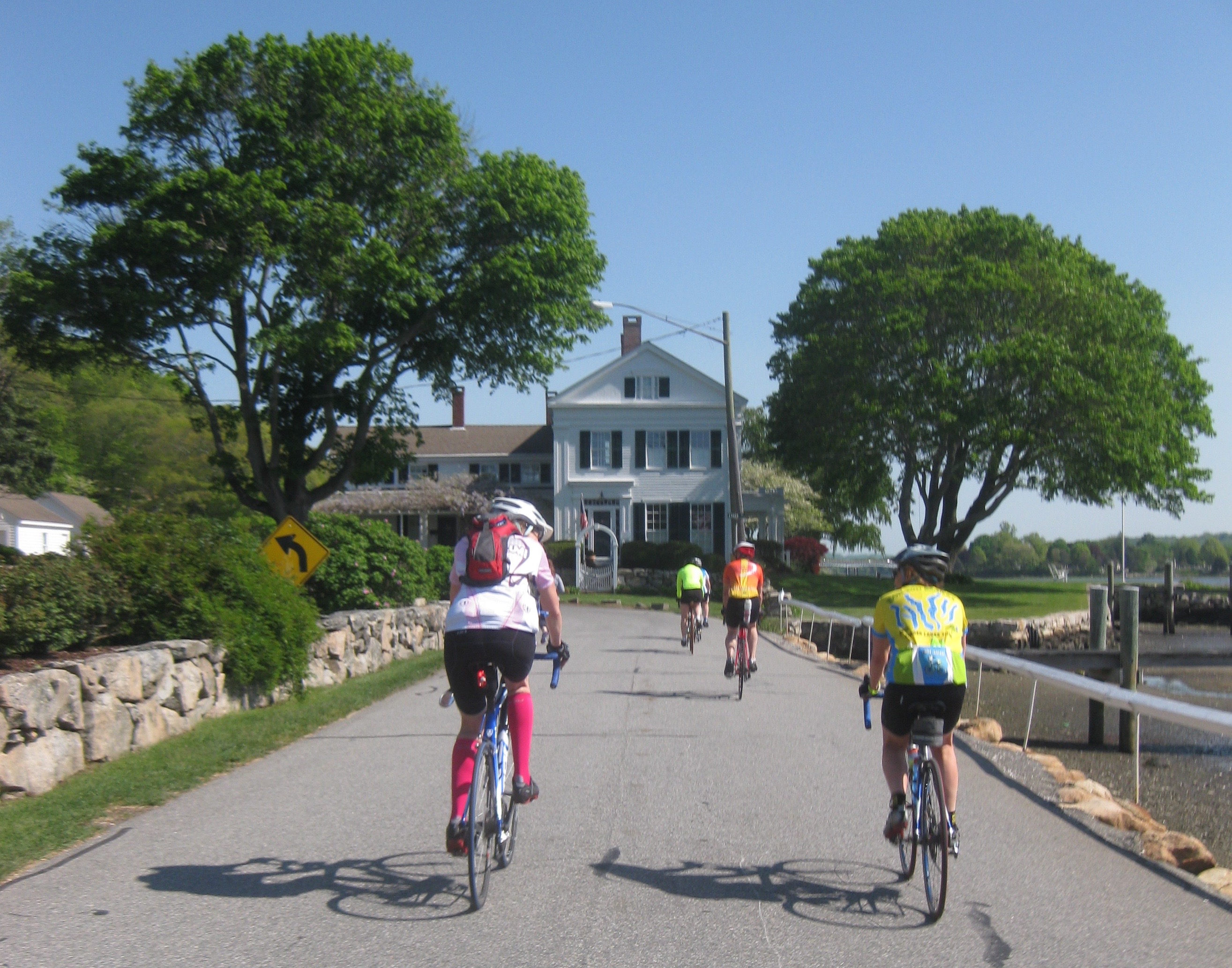 Last week the route featured the town of Groton, where the village of Mystic is located.  Did you know that Mystic is merely a village in Groton, not its own town?  Me either.  We met up with the Pequots in a school parking lot, and were greeted with smiles and waves from the thirty or so riders who were suiting up.  This was the first time Kristin and I would participate in the group as full fledged card carrying members of the group, so we expected to have stronger legs than usual.
We pushed off.  The Groton loop provided some of the best scenery Connecticut has to offer.  Federal, Colonial, and Mansard style homes, my faves, paralleled our route, and grew in size as we approached town centers along the way.  Stonington Point was windy, but especially beautiful and afforded views of Watch Hill, Long Island, Mystic Village and the mighty Atlantic.  The Mystic River was alive on and off with boaters, and runners in all directions.  We meandered along the coast and into the mainland before looping back to our starting point, to conclude the ride.
As pretty as Connecticut is, and as memorable as the rides are, the common thread of each ride is how much the Pequots enjoy one another.  I am so happy to have found them, and lucky to feel like a part of the group after only a handful of rides.  Our ride finished, as they all do, with a cup of coffee, a ride recap, and talk of rides yet to come.
After a rousing lunch with a fellow Pequot, Kristin and I stopped off at the seaport on our way home.  We learned that when Mystic seaport was founded, kids played hoop rolling games while gorging themselves on maple candy and whale blubber.  I love history.