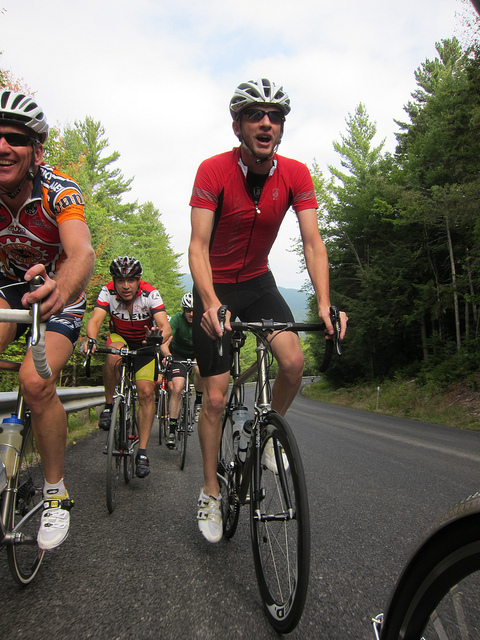 True Cyclery is a bicycle studio based in New Haven, Connecticut, delivering bike sales, fittings, and service to cycling enthusiasts.  We say delivering, and we mean it; we will come to your home, office, group ride, favorite cafe or watering hole and discuss your next bike with you, on your schedule.  Convenience is our goal.  We do have a retail space, open 12:00 to 7:00 PM on weekdays, and by appointment, if you prefer to talk bikes in our showroom.  We offer new bikes from Seven Cycles, Honey Bicycles, and Royal H Cycles, as well as bike fittings, service, and advisory services.
Our philosophy is simple, until we sit down for an informational interview, we won't have the slightest idea if we can be of service in your quest to get the most out of your cycling experience.  We won't know if you have been riding for years or for days.  We won't know if you are in the market for a new bike, a fitting, tuning up an existing bike, or looking for guidance on how to get more enjoyment out of your next ride.  By listening to your story, we can do what we do best, evaluate your needs, provide honest advice, then determine the next best steps to get you there.  We are open, genuine, and sincere, we are True Cyclery.
---
True Cyclery was founded by Karl Borne, the guy above in the red jersey and the way too short socks on his favorite ride of the year, the Kancamagus in New Hampshire.
With a freshly typed resume in hand, I raced down Center Street on my brother's hand-me-down Schwinn World Sport to the cat's meow of shops, Alpha-Lo Bicycles.  I was hoping to acquire a job that would teach me about bikes while engulfing me in cycling paraphernalia all hours of the day.  With a limited skill set, but slightly better than average grades, it was worth a shot.  I cannot remember the interview but I'm confident my answers weren't terribly deep or thought provoking.  Much to my surprise, I was hired on the spot.  I was the happiest sixth grader in town, the year was 1989.
Since that time I have worked in four other bike shops, led bicycle tours, helped coordinate Bpeace's Pedal For Peace charity ride, enjoyed ten years at Seven Cycles the world's largest custom bike manufacturer, helped get two bike shops up and running including the unique, non-profit Lawrence BiciCocina.  I have completed the Serotta International Cycling Institute's fit program, and enjoy helping people get the most out of their cycling experience.  In late 2015, I was awarded a spot in the Entrepreneurship For All Winter Accelerator program, where I learned invaluable information about running a business.  During that program, I was paired up with three mentors, Annette Reynolds, Rafael Fonseca, and Kevin Oye, who continue to provide expertise, and support, to this day and I feel lucky to have them.
Each of my adventures helped get me a little closer to my dream of opening a bike shop.  In July of 2015, the time was right.  After twenty-six years of research on cyclists and the equipment they love, I am excited to have founded True Cyclery, a bicycle retail experience like no other.