A Tale of Two All City Super Professionals
When All-City Cycles released the Super Professional a few months ago, the shop was aflutter with chatter.  "What dis?" we said.  
The ad copy was luscious, it read:
ELEGANT SUPER COMMUTER
Informed by our famed cross geometry to be fast, responsive, agile, and capable on mixed terrain, the Super Professional is a full-on everyday destroyer loaded with mounts for racks, fenders, two bottle cages, and all the versatility commuters and daily riders demand.
It looked good in both colorways, and looked to be on track to be a jack-of-all-trades bike.  Almost immediately we received an order for the striking "Blue Panther" paint scheme, complete with the stock Sram Apex 1X build.  Not long after that, John of BSBC determined it was time to update his commuter bike, and ordered the alternate color, "Goldust," frameset to build into his new everyday commuter.  Excitement was in the air, or rather, the UPS regional delivery truck.
To highlight how adaptable the Super Professional is, let's break down how each of these two bikes came to be.
First up, the Blue Panther Super Pro, for our friend Ernesto, a professor who rides to class via the bike path, to the grocery, around town, and occasionally to the pub when the time calls.  He prefers flat bars to drops, rear racks to front, and wasn't sure about fenders as he has had bad luck with rattles and adjustments in the past.  His previous bike, a Jamis Coda had provided years of dependable service, but had lost some luster over the years.  Rust had begun creeping through the paint in a few spots, the wheels were tired and in need of TLC or replacement, and the drivetrain had grown less consistent in its old age, the brakes were squishy more often than not.  We discussed options to improve and update the Jamis, but several modern features of the Super Pro caught his eye.
Simple Shifting – For those who don't pay too close attention to the bike industry, you might be shocked to learn that the days of the triple chain ring have been replaced, not with four chain rings, but with one.  ONE!  For many types of bikes and riders, ditching the front derailleur makes a lot of sense. The All-City Super Professional's stock build comes with a 44 tooth chain ring and an 11-42 cassette, which is to say you'll have ample gearing for the path you'll blaze be it up, down, or somewhere between.  A trigger shifter provides a satisfying feel, and gears snap into place with consistency and predictability. 
Set and Forget Powerful Braking – The Super Pro is adorned with hydraulic disc brakes which  will be a welcome change from his current linear pulls which feel mushy most of the time, require frequent adjustment, and have chronic rusty noodle bend.  No one wants rusty noodle bend, no one.  The brakes on the stock build are Tektro HDR280's, and a noticeable improvement, easy to pull, easy to stop, plenty of modulation, set and forget. 
Tire Clearance – Big tires mean big comfort, and the Super Pro can accommodate up to 45mm tires, plenty of rubber to smooth out the rockiest of trails.  For a daily commute, a little extra give from a big supple tire goes a long way.  Ernesto rides no matter the weather, so he wanted to run full coverage fenders, not a problem on the Super Pro, it has mounts for full coverage fenders and can still accommodate a 40mm tire, comfort and weather protection, get ready to live.
When we looked at the cost of an overhaul, and potential upgrades, it became clear that the All City Super Pro offered an awful lot for its $1,599 price tag.  In order to tailor the bike into Ernesto's ultimate commuter, we added a top tier 4130 steel Tubus Logo rear rack (+$150) for it's ability to haul heavy gear without flexing, and for the simplicity in which it pairs with Ortlieb's water proof panniers.  Ernesto's previous racks were aluminum, but on more than one occasion gave way to the weight he was carrying, we opted for structural integrity over weight savings here.
Though he was nervous about fenders, we assured him that when a good quality fender is set up with appropriate sound deadening hardware, he'd forget they were even there.  He took a chance and we set him up with black hammered Velo Orange (+$72) , which look beautiful while they silently do their thing.  They come in a variety of finishes, but we felt black matched his bike better, and the hammered surface is mesmerizing.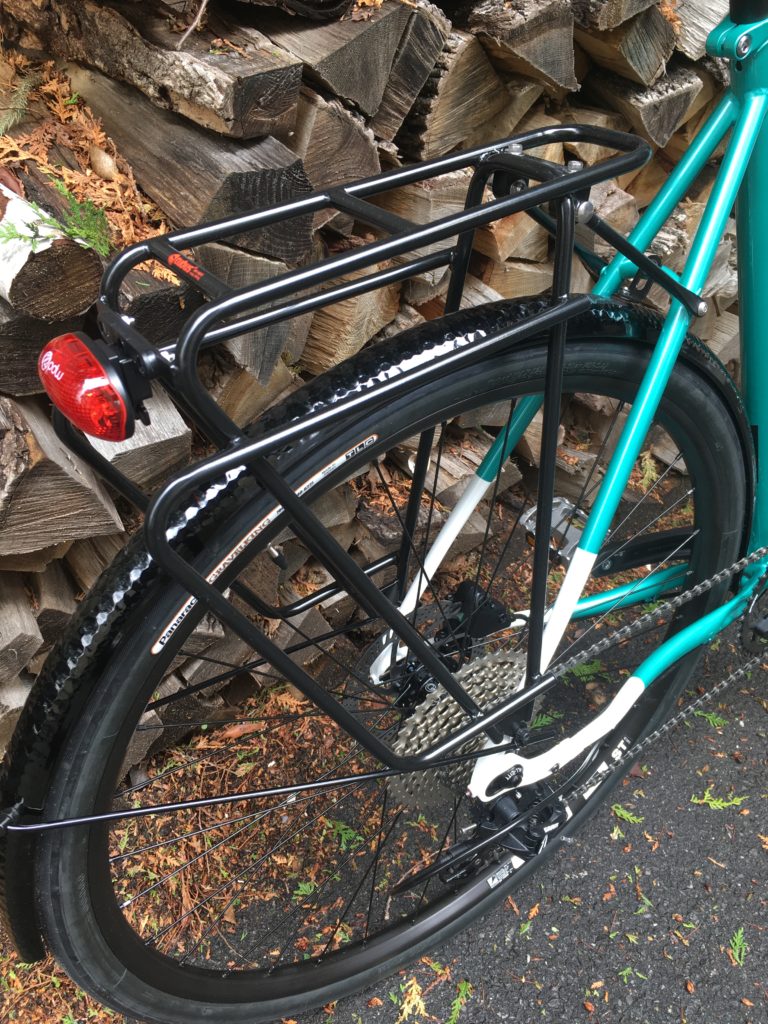 Ernesto doesn't use padded bike shorts, so we jettisoned the stock All City saddle in exchange for a Fabric Scoop Elite Gel Radius (+ $20 after buy back), a surprisingly comfortable seat designed for a more upright commuter position.  For less than 20 mile rides, without a chamois, this saddle is hard to beat.
The stock tires are the much acclaimed 37mm wide WTB Riddlers, which are designed to handle as much off road as on. Ernesto's bike will only see the pavement and chip seal, so we swapped them out for a pair of Panaracer GravelKing Plus's in a 38mm. Contrary to their name, the GK's are excellent asphalt commuter tires, providing a blissful ride quality and excellent puncture protection.
Final alterations involved cutting down the handlebars from 31" to 27", and though we cut the steerer tube down quite a bit, we're leaving room for future adjustments with 2cm above the stem, and 3cm below.  He put on a rear blinky (+$15), and some handsome flat Velo Orange pedals (+$64), which will last possibly forever with their sealed bearings.  With all of its adornments, the final bike weighed nearly 30 pounds, but is tight front to back.  We bounced the front wheel, the rear wheel, the whole bike, silence.
Total build, out the door – $1,920.  Five rides in and Professor Ernesto has reported that he delighted to have upgraded!
John Martin's Super Professional looks quite a bit different, as you can see: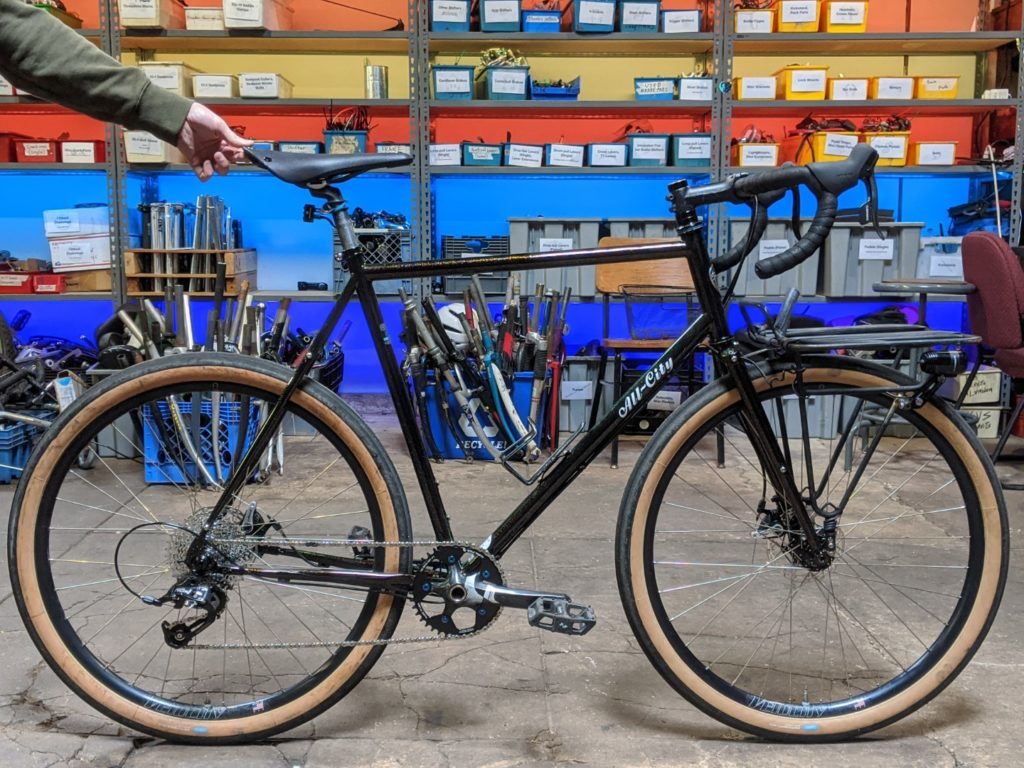 He prefers drop bars to flats, front racks to rear, and opted for 650 wheels to handle even bigger tires. The result is a bike that looks completely different than Ernesto's. Even though the two of them will be using their bikes as "daily riders" their preferences and usages are different, and the result are two very different bikes.
John goes everywhere via bicycle, which can mean to the Co-Op, to the grocery, to the top of East Rock, to volunteer days, to trail maintenance days, to Rock to Rock, to wherever duty calls.  Though he has a collection of bikes more aptly suited for some of the extremes like road rides, bikepacking, cross racing, or shredding the local trails, he often calls upon his daily ride to dabble in all forms of riding on top of being a true commuter, this bike, more than all of his others has to be versatile.
John's previous commuter, another All City, logged thousands of miles, and did so well.  Like Ernesto, John was staring at some needed replacement parts, and felt it was a good time to update his commuter frame, the Super Professional frameset ($850) looked good to him for these reasons:
Disc Brakes = Adaptability – By moving the brakes from the rim to a rotor, the frame is free to handle big tires.  Why are big tires important to John?  Let us count the ways – comfort, stability, puncture resistance, traction for all seasons, more predictable when towing a trailer, and of course, fun.  By running 650b (27.5") wheels, John can go up to a 47mm wide tire!  In addition, all of John's other bikes are equipped with disc bakes, so all of his wheels will now be interchangeable.
Rock Solid Rack Mount – John schleps stuff here and there and oh he has to go get this thing or deliver that and then go to a place to grab that other thing.  No bike ride is as simple as it sounds. Sometimes he wears a backpack, sometimes he lashes things to his rack, but there is always something to carry.  The All City Super Professional's steel fork is more than capable of handling a front rack and has the mounts to prove it.  John is using Salsa's "24 pack" rack which has a nice wide platform to make hauling even odd sized items a breeze.
Internal Dropper Routing – One nicety that is included on the Super Pro is the option to run a dropper post via an internally routed cable.  Though John won't be running a dropper, he will be running a cable from his generator hub to a taillight via the internal path, which will look very sharp.
When the frame arrived, we basked in the bass boat like glitter of the "goldust" paint, the more sun that hit it, the more colors were revealed to us.  Swapping parts didn't take long, and before we knew it, John was wiring the head and tail lights for the generator.  John hand built the wheels for this bike, using a tried and true Schmidt Son generator hub which lasts somewhere around 30,000 miles before it will need servicing, and some US made Velocity rims.  A Sram 900 rear hub is also built to last.  Drop bars, and a mix of Sram 1X components will get John up East Rock in time for coffee, and to the bike path with a 75 pound trailer behind him with "relative" ease.  He can do so in the wee hours of the morning, and when the sun goes down in the evening. and all hours before and after that.
What have we gleaned from building two All City Super Professionals, for two different daily riders?  In short, this bike will make a lot of sense for a lot of cyclists.  What can it do?  With a few minor tweaks here and there the Super Pro could easily be a more than capable: single speed, fixed gear, commuter, gravel grinder, all road, cyclocross, bikepacking, and even road duties.  Some will use all of the mounts, all of the tire clearance, other will use some now and some later.  For riders unsure of how they'll use their next bike, it's a safe bet, because it can do most everything well enough to be so much fun, and comes in several sizes.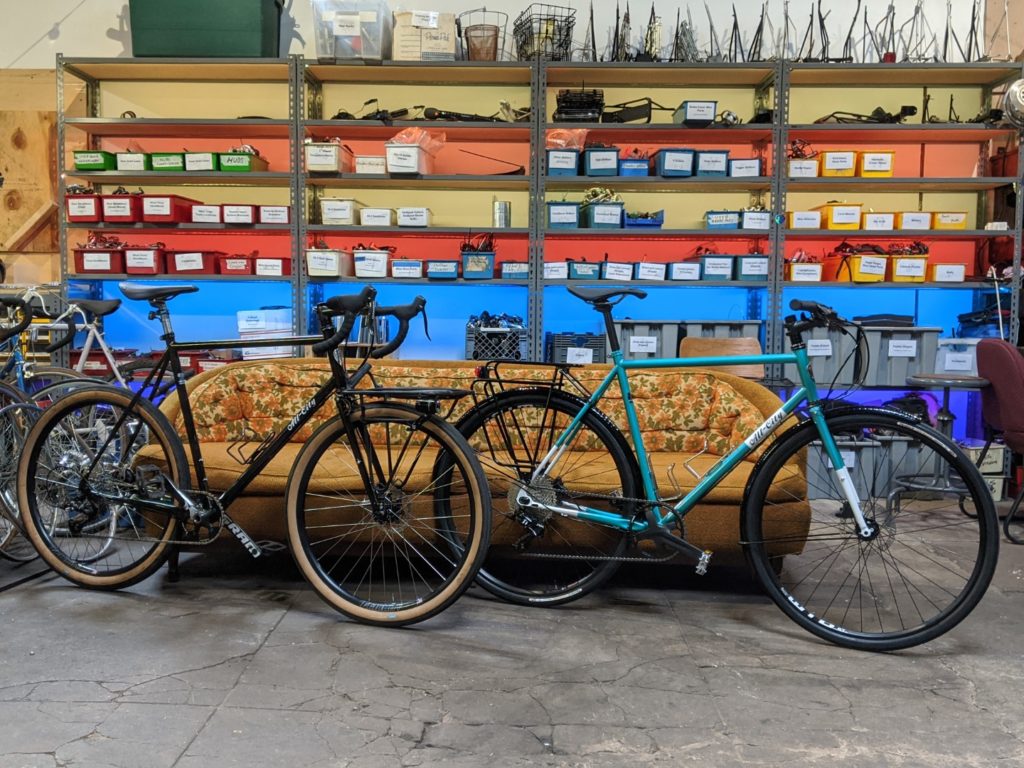 Potential Drawbacks?  Only a few worth mentioning:
Complete Bike Color Options – The Super Pro is available as a complete, geared bike, with a flat bar and Sram Apex components, for $1,599, but only in the "Blue Panther" color.  It's also available as a complete single speed flat bar bike in "Goldust" for $1,299.  Should you want the geared build in Goldust or the single speed in Blue Panther, the build and cost will be slightly different as we'll have to source the parts separately. No biggie.
Single Speed vs Geared – The Super Pro frame comes with All City's proprietary "Master Dropout" which can be used as either a geared bike or a single speed (no small feet on a disc brake frame), which is super cool, if you think you'll ever use the bike geared for some part of its life and single speed the other.  If not, it's sort of wasted technology, but it won't interfere with anything either way. No biggie.
Standover Height – After building up a 58 and a 55 cm frame, the stand over height is reasonably tall on these bikes, so something to keep in mind prior to ordering. No biggie.
If you are interested in learning more about the All City Super Professional, give us a shout!